LECTORY IN THE CLASSROOM
Students must be able to understand content and acquire digital skills. For this the teacher is more important than ever! As a teacher, you need to use the time in the classroom wisely. Lectory helps you to achieve these goals: better engagement with the text on a digital, crossmedia and networked platform.
| | |
| --- | --- |
| | The online text motivates students to read and comment plus it enhances their digital competence. |
| | |
| | A constantly growing library of texts for the classroom. Take your pick. |
| | |
| | Lower your workload with lectory: predefined lesson plans make your life easier. One click makes predefined assignments, comments and questions of a lesson plan unit visible for the students. |
| | |
| | Being in the text with your students makes it easier to see how they are doing and to guide them through the text by pointing out relevant text passages. |
| | |
| | Lectory is a protected, invitation only environment but registered students can start their own reading groups and book clubs with the school community. |
| | |
| | Mehr lesen > |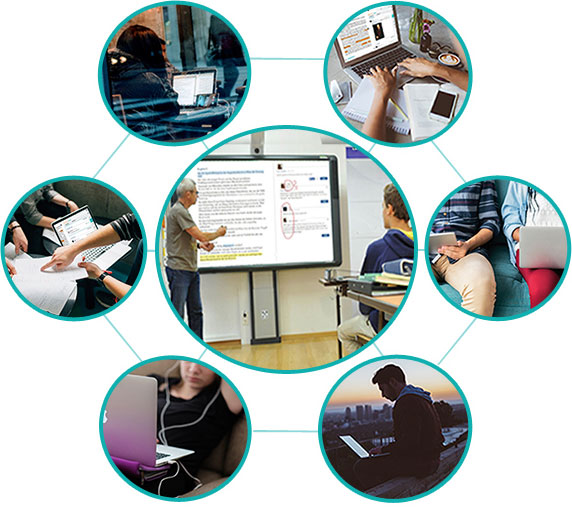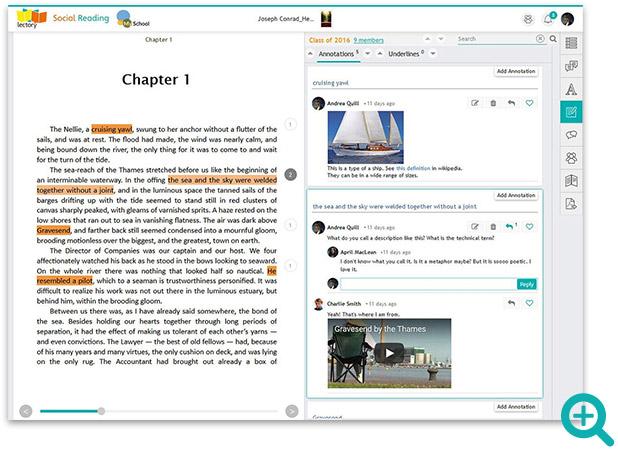 The online platform motivates to read and comment plus it increases the digital competence of the students.
At lectory, the Students read the text and work on the assignments they are given directly in the text. They can comment on texts, discuss them in the group and underline important text passages. Lectory also allows the user to embed pictures and videos as well as links to other content that can usefully complement the book or text.
As a teacher, you can easily answer student's questions within the book itself, identify any problems students may have with the text or simply moderate the discussion.
Lectory gives you access to a ever growing library of school readings
In cooperation with leading publishers worldwide, lectory provides for you a library of classical and modern text that are used in schools. You can evaluate the books and then decide to work with a particular text and, if necessary, buy a classroom quantity of books.
Ease of work with predefined teaching models
Many books in your lectory library will have pre-built lesson plans with predefined comments, assignments, underlines and additional material. With one click, you unlock these predefined interactions within the text from your teacher account.
Export your joint efforts as PDF
At any times of the project you and all your students can export their discourse, your interactions and all additional material into a PDF in order to document the work in the class.
Protected online reading groups for all users
Lectory is an "invitation only" system for online reading of a book. Students need the invitation by a teacher to join the community but are then free to use lectory to form groups amongst themselves (only invited users).
WAS KOSTET LECTORY?
Sie wollen lectory an Ihrer Schule für alle Lehrer oder für eine Fachschaft einsetzen? Wir bieten Ihnen attraktive Jahres-Lizenzmodelle mit flexiblen Lehrer- und Schülerzahlen.
490.00 € für bis zu 10 Lehrer- inkl. 200 Schüleraccounts p.a.
990.00 € für bis zu 40 Lehrer- inkl. 600 Schüleraccounts p.a.
Anfragen zu diesen Mehrplatz-Lizenzen bitte an: vertrieb@lectory.io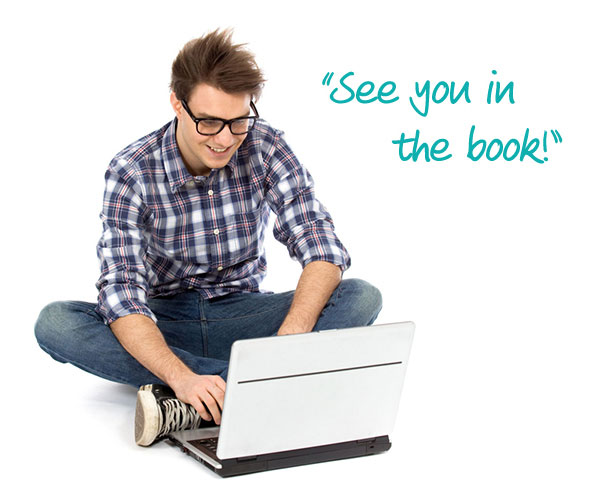 CLOSE
Do you already have a lectory code?
Then you can register here.
*Without lectory code registration is not possible. You must have been invited to lectory before.